Probably should not be updating so elaborately in the near future since I am scheduled to turn into a social recluse in a week or so, given looming deadlines and an 8MC ISM report to write.
Ubin during the monsoon was madness, muddy as hell. My Tevas on their maiden outing saw a lot of muck and had to be scrubbed and comforted after the trauma. Chasing the fine weather around the island was an intriguing experience, since the rain kept catching up on us. The bunny can now say that she's cycled all possible roads (legal and otherwise) on that forlorn island. K la, not so forlorn. Coconut as usual, excellent, bike rental fee, also excellent. Getting mud all over my legs... a curious experience.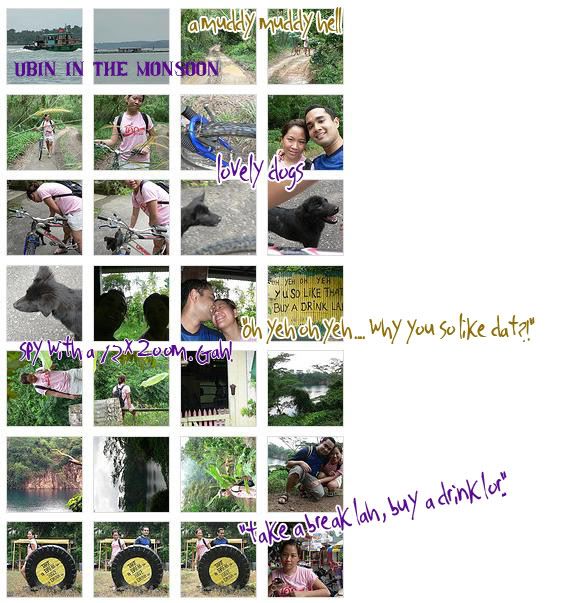 More curious yet, were the numerous signs advertising the sale of cold drinks all over the island, at almost every home. Funny la.
Incidentally, after my article in the papers came out, someone was bored enough to do a search for me in friendster and sent me a message about agreeing with my opinion. I went to this "person"'s profile and this is what I read:
About Me:
Support Group for the Life Sciences Industry, whom many of us have no options but to become NIE teachers or pharmaceutical sales agents, because there are not many biotech/ research institutes in Singapore as we have more than 1000 people graduating with a diploma or degree in life sciences from NTU, NUS, MDIS, SIM, Hartford Institute, Republic Poly, Nanyang Poly, Temasek Poly, Singapore Poly, and Ngee Ann Poly.


Who I Want to Meet:
Education policy makers who touted Life Sciences industry as a sure bet, without any consideration of a supply and demand concept.

Supply of Manpower exceeds the Demand for Life Sciences Jobs.

Gosh....... what are we going to do?

Probably Mr Philip Ye0 (A* Chairman) when he said in 2001, that with a BSc in Science, you are probably qualified to be a test tube washer.
Angsty sia. Got 200 plus friends in "her" list okaaay.